Be Clear on Cancer: Bladder and Kidney Awareness Campaign
 16 August 2018  Be clear on cancer | Information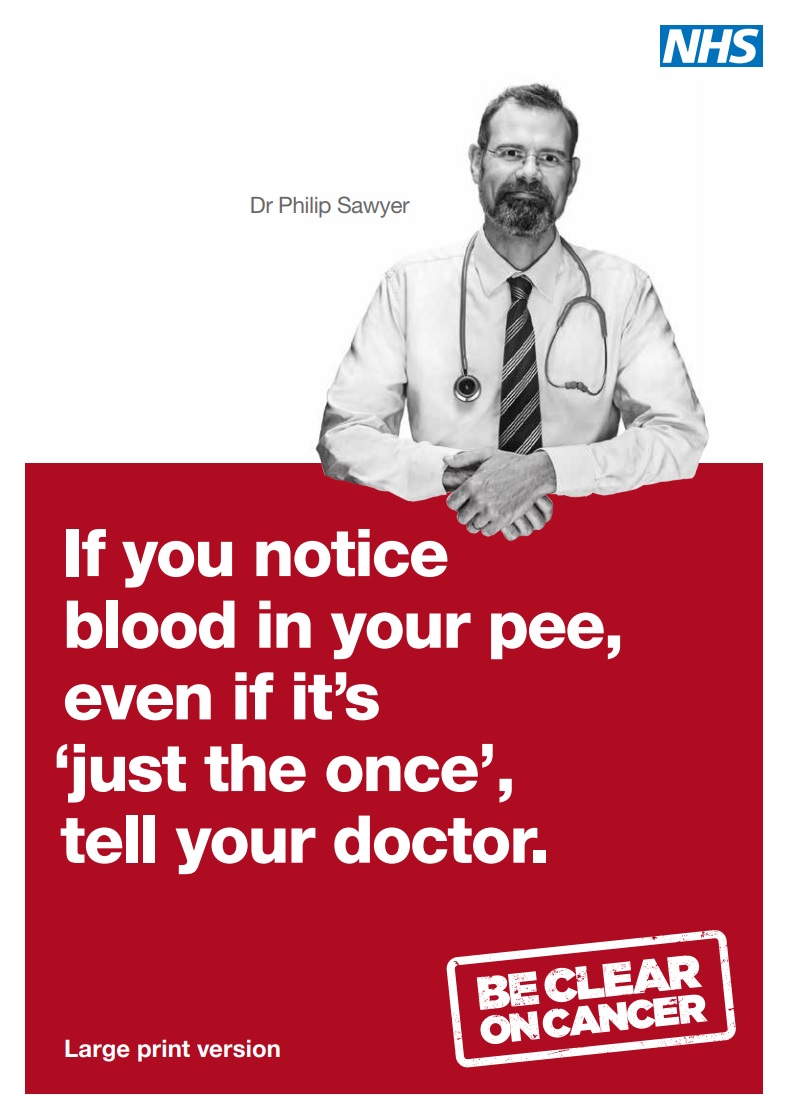 Every year over 19,000 new cases of bladder and kidney cancer are diagnosed in England and the latest 'Be Clear on Cancer' campaign on detecting these cancers early.
The earlier bladder and kidney cancer are found, the better the chances of survival are - 84% of those diagnosed with kidney cancer and 77% with bladder cancer at stage 1 will live for at least five years.  At a later stage diagnosis this drops to 10% and 9% respectively.
The 'Be Clear' campaigns are run by Public Health England and aim to improve early diagnosis of cancer by raising awareness of symptoms and encourage people to see their GP without delay. The current campaign focuses on the presence of blood in your pee as a potential sign of something more serious - blood in pee is a symptom in almost two thirds (64%) of all bladder cancers and around a fifth (18%) of kidney cancer.  Only 16% of people most at risk – i.e. age 50 or over – check the colour of their pee every time they go to the toilet.  The campaign encourages people to 'look before they flush' and tell their doctor if they notice blood in their pee, even if it's just once, just to get it checked.
Prof Kelly, the London spokesperson for the 'Be Clear on Cancer' campaign said: "Blood in pee always needs further investigation. While in most cases it is nothing to worry about, it could be something serious such as cancer. The earlier (bladder) cancer is caught, the better chance of successful treatment. But we need people to pay attention when they pee and speak to their doctor if they notice blood."
To find out more about the campaign, and to watch a short film visit the Be Clear on Cancer webpage here: www.nhs.uk/bloodinpee. 
Blog Archive