#SmearForSmear - West Ham United and Jo's Cervical Cancer Trust join us to increase smear test uptake
 22 January 2018  Cervical cancer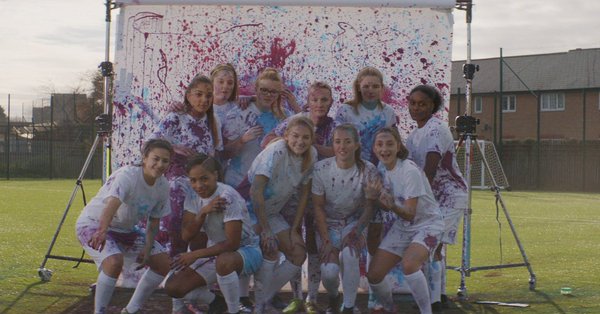 UCLH Cancer Collaborative is working with West Ham United and Jo's Cervical Cancer Trust to support the #SmearForSmear campaign during Cervical Cancer Prevention Week (22-28 January).
West Ham United ladies football team have produced an upbeat and innovative video to support the #SmearForSmear campaign and encourage all eligible women to have their smear test.
Each year there are around 3,000 new cases of cervical cancer in the UK - that's around nine women diagnosed every day. It's the most common cancer in women under 35.
Cervical screening (also known as a smear test) is open to women aged 25 to 64, and is a very effective way of preventing cancer by finding abnormal cell changes in the neck of the womb (cervix). These changes could lead to cancer if left untreated. They are usually easily treated in clinic which avoids cancer developing.

Research shows that cervical screening prevents at least 2,000 cervical cancer deaths each year in the UK. Since cervical screening started in the 1980s in Great Britain, rates of cervical cancer have almost halved.

Yet many women do not attend their smear test – one in four women currently do not attend their appointment.
Professor Kathy Pritchard-Jones, chief medical officer for UCLH Cancer Collaborative, said:
"We are delighted to be working with West Ham United and Jo's Cervical Cancer Trust to support the #SmearForSmear campaign and raise awareness of the importance of having a smear test. Cervical cancer is very treatable if diagnosed early. Having a smear test is the most effective way of detecting cervical cancer early so that treatment can begin quickly."
West Ham United Vice-Chair and West Ham United Ladies ambassador Karren Brady is proud that West Ham are united in their support for the campaign.
"Our club is absolutely committed to ensuring the community we serve are inspired towards healthier futures. The #SmearForSmear campaign is a fantastic initiative from Jo's Cervical Cancer Trust, and I am proud we are supporting it in such a creative way."
Robert Music, Chief Executive of Jo's Cervical Cancer Trust: "West Ham United has a huge reach and influence and can help us get messages about cervical cancer prevention out to a large audience, especially about the importance of smear tests. We have women in our lives that we love and care about and can all play a part in helping protect them from cervical cancer. A simple reminder, conversation or comment could make all the difference. I'm thrilled that the team are supporting our campaign to encourage more women to attend and hope the fans reading this will do so as well".
For further information about smear tests and cervical cancer visit: www.jostrust.org.uk
Blog Archive